Blog // Oakville Real Estate and GTA Market Watch

While it has been unusually warm outside so far this spring, it seems that the real heat is in the Oakville Real Estate market.
The high demand for resale homes in Oakville, and the tight supply of Oakville homes for sale has helped push prices to a new high.
The average price of a home in Oakville came in at $709 417 this May, up 13.62 per cent over the average price of $624 366 that was reported in May of 2011, and represents a 1.5 per cent increase since April of this year.
Oakville Real Estate Agents reported 409 homes sold in May, which was exactly the same number of Oakville homes that sold in the same month last year.
There has been a slight increase in the number of new listings, and this should help take some of the pressure off of buyers, and make it a little easier for them to find a home since there is a better supply of Oakville homes for sale.
Greater Toronto REALTORS® reported 10,850 transactions through the TorontoMLS system in May 2012 – an 11 per cent increase over the 9,766 sales in May 2011. Sales growth was strongest in the '905' regions surrounding the City of Toronto.
"Sales growth in the '905' area code was stronger than growth in the City of Toronto across all major home types. While lower average prices are certainly one factor that has contributed to this trend, recent polling also suggests that the City of Toronto's land transfer tax has also prompted many households to look outside of the City for their ownership housing needs," said Toronto Real Estate Board (TREB) President Richard Silver.
New listings were up substantially on a year-over-year basis in May – rising by more than 20 per cent to 19,177.
The average price for May 2012 sales in the GTA was $516,787, representing an annual increase of 6.5 per cent compared to $485,362 in May 2011. Price growth continued to be driven by the low-rise market segment.
"Strong competition between buyers seeking to purchase low-rise home types drove strong price growth in May. However, if new listings continue to grow at the pace they did in May for the remainder of 2012, the annual rate of price growth should begin to moderate on a sustained basis," said Jason Mercer, TREB's Senior Manager of Market Analysis.
For a complete breakdown of all GTA Real Estate statistics, including local neighbourhood statistics click here.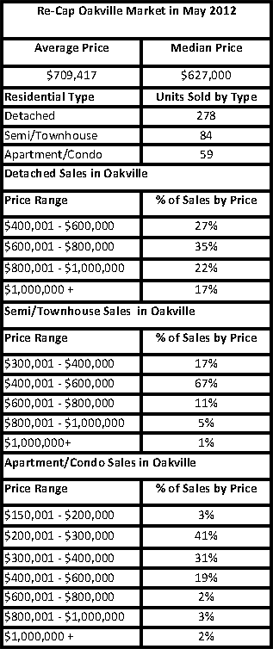 07/06/2012 – This article was posted by Oakville Real Estate agent Ryan Crane, who is an Oakville Realtor that specializes in the Mississauga, Burlington, Milton, and Oakville Real Estate markets. You can find him at www.oakvillerealestate4sale.ca
This Oakville Real Estate Agents website provides full access to all Oakville Homes for Sale and the Oakville MLS Listings including the sold prices for Oakville Sold Properties.
Tags:
Oakville Real Estate
,
Oakville Homes for Sale
,
Oakville Real Estate Agent
,
Oakville Real Estate Agents
Write a comment
Required fields are marked with *.